Rathgar's own Mia Symth aiming big in world of Padel
May 29th, 2023 – Rathgar Tennis Club's Mia Smyth is hoping to be selected for Padel's big-stage debut at the 2023 European Games in Krakow – having only taken up the sport a few months ago.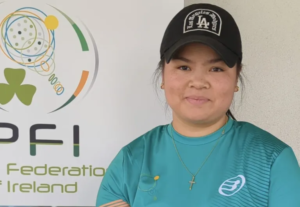 Mia was one of 22 women selected for the Women in Sport programme run by the Padel Federation of Ireland. The governing body set up the free initiative to fast-track more women into competitive level padel with a view to selection for this summer's Polish jamboree and other upcoming international competitions.
There is great excitement at Padel making its first appearance in a major multisport event at what will be the third European Games. The competition court will be erected in Krakow's main square, giving the sport a major platform to build on its already rapid growth.
Ireland's Padel squad for the Games will consist of two males and two females, plus four non-travelling reserves. Selection has taken place through a series of trials during the first half of this year.
Mia, 19, is hoping to be among the final four. She played junior tennis for 10 years but became curious about padel after four courts were installed close to her home at Bushy Park in Dublin.
Her and a group of friends successfully applied for the Women in Sport programme, which actively recruited women with a history of high-level competition in other sports. Led by head coach Alvaro Cabello, the six-week course was later extended and is set to be replicated this summer in Cavan and then at further clubs.
Six of the 22 women on the programme put themselves forward for European Games selection and three were accepted on to the trials. Final selections are decided by a committee that includes national coach Jeronimo Canas and will be announced by the Olympic Federation of Ireland on 2 June.
"It would be a great opportunity and amazing to be chosen, but competition is pretty steep and I'm still learning the subtle differences between Padel and tennis," Mia told The Padel Paper.
"It's been great to get this far and to play with lots of other women and girls. We've had people come from all over Ireland. Seeing everyone's levels as I play with or opposite them has been really interesting. I'm loving this learning experience."
Despite being relatively new to Padel, Mia admits she now "can't choose a favourite" between Padel and tennis. As she increases Padel practice and matchplay for the European Games trials, she admits tennis has "taken a back seat for now."
She adds: "In tennis, I'm keen to be at the net and play aggressively, so I think Padel suits me in that way. It's all about fast hands.
"It's just about getting used to that wall. In tennis, if the ball goes past you, that's the point over. In padel you have that second chance. I'm learning to let the ball go past me and use the wall to my advantage."
Naomi Nicholl, President of the Padel Federation of Ireland (and manager of the team going to Krakow) said: "Our Women in Sport programme has been a great success. The women are showing great potential – so much so we've extended the initial six-week programme and secured more courts so they could continue to train.
"Sometimes women's initiatives can be geared towards tokenism and being a vehicle for socialising. We wanted to boost the competitive side of women's padel. We're delighted to now be rolling the programme out in Cavan and other clubs too."
Padel in Ireland is arguably even earlier in its development than in the UK, with just 25 courts. To enter a team for the European Games, the federation has worked closely with the Olympic Federation of Ireland (OFI) to develop the selection and nomination policy, and design trials that would facilitate selecting the best pairs with the highest performance potential.
Once selected, the team of four will travel, along with the team manager and two coaches, with the rest of Team Ireland to Krakow, with the padel event running from 21-25 June. The team is ambitious, but realistic – they do not expect to be challenging overwhelming favourites Spain for the gold medals.
"The other countries all have a head start, but that doesn't mean we won't compete in the race," says Naomi. "We're going to approach it as professionally as possible. We have invested a lot of time and resources to achieve our potential.
"We are working with Jeronimo Canas, a really well-known and experienced coach, who is guiding us through the process. The whole team is training very hard to make sure we're putting our best foot forward. This will be an amazing milestone for padel, both in Ireland, and globally."
Article orginally published in the Padel Paper on May 24th, 2023.